Discover more from Nurse Log Notes
an ecosystem of old and new to aid in resisting empire and remixing faith by c. wess daniels
A Doorway Into Life
On Change, Trust, and Patience
Dear Friends,
Life has been humming along here in Greensboro. This past Saturday we celebrated commencement which is always a glorious occasion at Guilford (I will tell you a little more of that below). An update on my dad: he is still making progress and signs are more hopeful over the last couple of days. Thank you for your continued thoughts and prayers.
Thanks for reading this week and every week.
Below you will find a short reflection on Change and Trust, and an article, "A Doorway Into Life," I wrote with two friends and colleagues here at Guilford about the college farm, a food and faith class we teach together, and the importance of trust and patience. I hope you'll find both reflections work together nicely. This article was published in Friends Journal this month. The link below will take you to that webpage.
C. Wess Daniels
Haw River Watershed (Greensboro, NC)
---
A Few Photos from Guilford's Graduation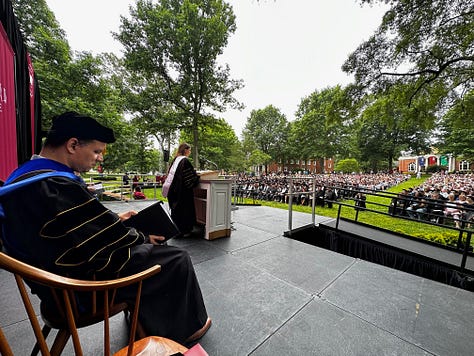 ---
The Speed of Change
Besides some of my favorite people graduating this year during Guilford "happiest day of the year (commencement)," one major highlight was meeting Dr. Mandy Cohen, who was one of our honorary degree recipients and commencement speaker. For those of you outside NC, Dr. Cohen was the secretary of the North Carolina Department of Health and Human Services during the pandemic.
She and her team did an incredible job which led to lives saved during the pandemic. North Carolina was ranked second in the country in terms of response, vaccination rates, lowest mortality rates, etc. Besides just appreciating what Cohen did in NC, she said something during her speech that I've been thinking a lot about. In her talk, she addressed the political challenges her team faced with rolling out the necessary supports to make sure people were safe. She said the main thing she learned through all of it was that "change moves at the speed of trust."
Whether you are working in the public sector, non-profit work, education, ministry, creative work, or anything else, the same is true: change moves at the speed of trust. We cannot—and will not—move together if we do not first trust one another. Yet, so often we try to forge ahead and feel that the community building is too time consuming, too hard, or not worth our efforts if we can just force people instead (I have personally witnessed the fallout of this kind of "change management"). What if instead we saw change, at least the kind you and I desire, as not even possible without prioritizing deep trust work?
Dr. Cohen gave a few ideas about how she and her team worked on this. She talked about the importance of transparency and integrity. Those are necessary in any community and in all leadership, and yet, I find that it can be so easy to fool ourselves into thinking we are being transparent and acting with integrity even when truth is something drastically different.
I found a clue in something else she said. She talked about the countless PSAs she did and the question and answer forums she participated in. Cohen said that (eventually) she found a way to see even the most extreme questions as genuine signs that trust was not yet there and that they needed to continue to keep finding ways to build.
Following the pandemic many of our relationships feel even more fractured than they already were. I've recently written about some of this in, Friendship As A Spiritual Practice, because I see how much we need friends who can be honest with us and help us see ourselves, name our gifts, support us in difficulties, and help us point our growing edges. But before we can get there, we need something simpler: the low-threshold activities that can forge, repair, and rebuild our connections with each other. We're so quick to write each other off. Move on too quickly because of how busy we are. Treat each person fleeting, as though they're just a follower on social Media. It's easy to sign someone up for a committee without first knowing the names of their children, sharing a meal together, finding a common passion, or laughing together. I make a deeper connections with someone over a cup of coffee, a story, maybe a vulnerability. Yet we tend to instrumentalize each other, reaching out if we need/want something. Or fearing the risk of rejection, we don't reach out at all. This doesn't build the kind of trust we need in order to rebuild for community. It might help keep the tasks moving in the short term, but it won't bring about lasting change, friendship, and the trust we want and need.
I turn this to you: What have you seen? What is working? Where are their signs of life in rebuilding trust and helping communities that continue to foster change where you are, no matter how simple it might at first seem?
Queries (feel free to respond in the comments below or in the Nurse Log Chat):
What have you done or seen done that has built trust in your communities, organizations, families?

What are the complex to the simple things help build the kind of trust needed for change to happen?
---
A Doorway Into Life by C. Wess Daniels, Bronwyn Corry Tucker, and Tony VanWinkle
An excerpt from "A Doorway Into Life" By C. Wess Daniels, Bronwyn Corry Tucker, and Tony VanWinkle:
Similarly, it takes trust and patience—some might say faith—to make growth as individuals and communities. In her writing Science and Health with Key to the Scriptures, Mary Baker Eddy pronounced: "What we most need is the prayer of fervent desire for growth in grace, expressed in patience, meekness, love, and good deeds." Quaker tenets assure us that the Inward Light, like a seed of God, is present within all people. Sometimes we may not see the promised brilliance of others or feel anything lit within ourselves.

But we must trust nonetheless, and nurture whatever spark is present with compassion and a curiosity that leads to understanding and connection. I have found food to be another, often quicker, pathway toward finding this common ground. Food is a connector. All food has a story. That story is one that can bring groups of people together more meaningfully than almost anything else. I wanted to see more of my classes make room for these stories that lessen our divides and highlight where we share in our humanness. A class focused on food and faith seemed like a great place to start.
Read more on Friends Journal: A Doorway Into Life.
---
Links from Around the Web Picked Just For You
A few years back, I accidentally listened to this on a road trip. I was looking for an audio book from the library and saw the title and couldn't tell if it was a book about Heavy Metal or Marie Kondo. Maybe it is a little of both but I loved it and keep thinking about it years later:'Swedish Death Cleaning' Can Improve Your Life Right Now

A really great podcast episode: Build a stronger connection with your kids from Life Kit

Some of you know I am a big Wes Anderson fan. Well, this slaps (as the kids say). :)
---
Announcements + Bulletin Board
44th Annual Meeting of the Friends Association for Higher Education
Quakers, Colonization, and Decolonization
June 12-15, 2023
Hosted by Haverford College, Haverford PA
Get more information and register here.
4 Hybrid Plenary Sessions:
International Decolonization Issues

Decolonizing and Land Back

Indian Boarding Schools

Insights for discernment moving forward
25 Concurrent Presentations
4 session In-person series

4 session Zoom series

From "Quaker Colonists" to "the Future of a decolonized quakerism."

From "Seeking Peace Without Land Justice" to "Researching Native American Boarding Schools."
50 Presenters 
12 of Indigenous heritage representing 11 Turtle Island Nations

30 Quakers representing 13 Yearly Meetings and 5 continents

10 Colleges and Universities
All are welcome regardless of your academic background or current knowledge of these issues.
And I do plan to be there! -Wess
---
A Final Thought
Thomas Merton says in Seeking Paradise: The Spirit of the Shakers:
Cutting wood, clearing ground, cutting grass, cooking soup, drinking fruit juice, sweating, washing, making fire, smelling smoke, sweeping, etc. This is religion. The further one gets away from this, the more one sinks in the mud of words and gestures. The flies gather.
Blessings to each of you!
-Wess
There are so many ways to engage with this newsletter and the community supporting it. Consider becoming a member, "like" this post, leave a comment and share your thoughts/questions, send this newsletter with a friend, join the chat via the Substack app, or drop Wess an email (cwess@icloud.com).
Nurse Log Notes is a reader-supported publication. To receive new posts and support my work, consider becoming a free or paid subscriber.